New Year's Eve is one of the most anticipated nights of the year. After all, it symbolizes new beginnings and a fresh start – ideas which are very appealing, especially after a difficult year. New Year's is the perfect time to reflect on all you've accomplished and set goals for the future.
Whether your previous year was one to remember or forget, there is much to celebrate on New Year's. However, with the Omicron variant spreading rapidly, it's more important than ever to take some precautions so you can have a safe and healthy new year.
Stay Home
One of the best ways to minimize your risk of getting sick is to stay home. While this may not make for the most exciting New Year's Eve, it does not mean you have to sacrifice fun! There are plenty of ways to make a home celebration just as festive as a huge party out on the town.
Make a special meal
If you plan to stay home, ring in the new year with a special meal. Involve the whole family in the planning and preparation so everyone has a job and feels included. Have the kids make a menu and set the table with a handcrafted centerpiece.
You can even up the fun with festive New Year's decorations to get everyone in the mood.
With the proper kitchen gadgets, you might be surprised by just how much kids can help. Older kids can peel and cut vegetables, mash potatoes, and even help measure and mix baking ingredients.
Who knows, you may even develop some new family traditions.
Make it a game night
After dinner, clear the table for family games. There is no better way to make memories than with engaging games the whole family can play. Parents and grandparents will love showing the kids some classic board games like Snakes and Ladders and Checkers. Kids will love showing the grown-ups newer games like Noisy Neighbors and Re-Fraze.
Opt for educational games that are so much fun kids won't realize they're reinforcing school skills. We love Bumper Car Math and Spelling Beez.
Craft the hours away
Add a little creativity to your New Year's by organizing a home crafting party. This is a great option if you need to keep both kids and adults entertained. Set up a couple of tables with craft supplies like paints and easels, yarn for weaving, and stickers for card making.
New Year's crafts for kids can include any assortment of craft supplies. Kids will always find creative ways to express themselves when given the freedom to simply explore! Don't forget to have a stack of coloring and activity books for the whole family to share.
Spending time with loved ones is enough to make your New Year's one to remember.
Keep it Small
If you do decide to get together with friends, keep your gathering small and preferably outdoors. Let guests know your concerns about the pandemic and what arrangements they can expect. If you plan to keep it outside, a supply of warm blankets is a nice touch.
If the weather in your area is uncooperative and you must keep indoors, be sure to keep an abundant supply of hand sanitizer, hand soaps, disinfecting wipes, and tissues on hand.
It's also a good idea to let guests know if you prefer they wear masks. If so, encourage fashion masks as part of your New Year's Eve best. When you buy masks wholesale, you'll be sure to have enough to give guests as they enter in case anyone forgets. Let guests know you're concerns and that their health and safety are your biggest concerns.
Give Back
Instead of creating a special celebration for you and your family, consider foregoing a big New Year's Eve celebration in favor of an afternoon of giving. Pay it forward by spending the last day of the year donating to those in need in your community. Helping others will fill you with gratitude and create a strong foundation of giving as you head into a new year.
Volunteer at your local food bank or homeless shelter or start a collection of highly requested items for those in shelters. Warm clothes, like coats, hats and gloves are always welcomed. Don't forget socks and underwear too. These are some of the most requested items in shelters.
Personal hygiene kits that include essentials like toothbrushes, soap, and deodorant are easy to pack up and deliver.
Food banks will always accept nonperishable items like canned goods and easy to prepare meals. Stick around to serve some meals with your families. You might be surprised by how fulfilling this experience can be.
If you still plan to host friends and neighbors, instead of a hostess gift, encourage them to collect food and supplies to leave with you. This way, you can double your donations. The more people involved in giving, the greater the impact. Buying items in bulk also helps you reach the greatest number of people without breaking the bank.
Don't forget your pets
Although noise makers, loud music, and fireworks can create a spirited atmosphere, the noise can be distressing to pets. Try to keep pets indoors and insulating from all the excitement as it will help keep them calm.
Many dogs and cats will try to run to escape the noise. Be sure they have a collar and ID. Keep a supply of pet toys on hand to keep them busy and make them a warm, cozy shelter to spend the night feeling safe and secure.
Ringing in the New Year is a time-honored tradition. It's a time of great hope and reflection. We've had much to celebrate this past year and much we look forward to leaving behind. Keep everyone safe and healthy by taking the necessary precautions, especially as the Covid pandemic rages on.
Whether you attend a big bash, an intimate party with a few friends, or stay home so you can be in bed before midnight, make good choices. Wash your hands frequently. Drink in moderation. Never drink and drive.
As you take some time to celebrate the past 365 days, we hope you also take some plan to plan for the next 365. How will you make a difference? How do you plan to grow? DollarDays is proud to work with generous hearts like yours and we look forward to continuing partnering with you. May the next year bring you continued health and prosperity.


Source: https://blog.lighthouse.insurance/new-years-eve-safety-tips-infographic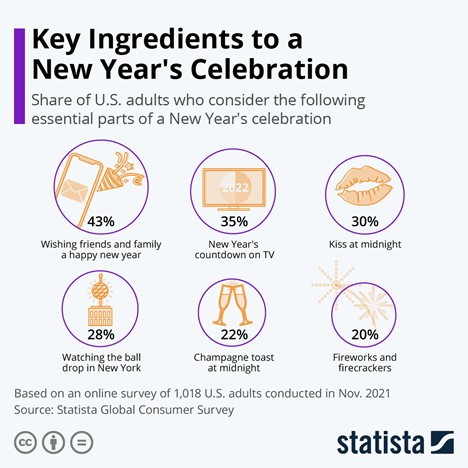 Source: https://www.statista.com/chart/26451/essential-new-years-traditions/