DollarDays was named Product Exporter of the Year by interim Phoenix Mayor, Thelda Williams, at the 2018 Mayor's Export Awards. The awards program, part of the 19th Annual Global Links Luncheon presented by Phoenix Sister Cities Inc., celebrates the role of exports in building the city's economy.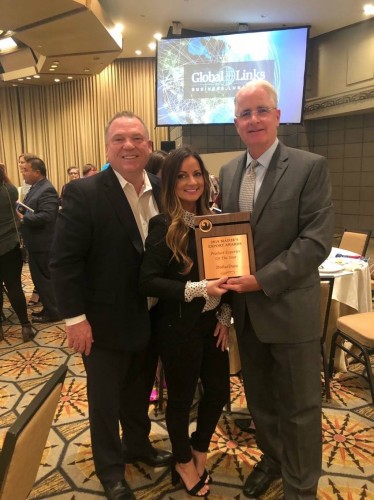 DollarDays is an online marketplace that serves more than 125,000 global nonprofits, businesses and schools across the country. The company leverages almost two decades of purchasing power to deliver high-value products, such as hygiene kits and disaster-relief supplies, clothing, blankets, and backpacks. With its extensive network of suppliers, DollarDays provides end-to-end support to stretch customers' donation and purchasing dollars, while helping organizations complete their projects and achieve their missions.
"An increasing number of organizations, large and small, rely on DollarDays' products and support to get wholesale items at a great value," said Ronald C. Pruett, Jr., Chief Executive Officer of DollarDays. "For nearly 18 years, DollarDays has made Phoenix our home base, and, from here, we have served thousands of nonprofits whose missions touch lives around the world. We appreciate the recognition from Mayor Williams and the Sister Cities for DollarDays' contributions to Phoenix."
Mayor Williams said, "Smart business leaders understand the importance of doing business beyond our borders. This year, the Mayor's Export Awards recognizes five Phoenix businesses that are helping to diversify, strengthen and build our local economy into one that competes internationally. We are proud to have these businesses in Phoenix."
About DollarDays
Founded in 2001, DollarDays is the leading supplier of wholesale goods for nonprofits, businesses and betterment organizations. By sourcing affordable products, backed by exceptional service and meaningful community engagement, we strive to inspire and empower our customers to accomplish their missions to improve the lives of people around the world. Recognized as the City of Phoenix Mayor's Office "2018 Product Exporter of the Year" and Internet Retailer Magazine's "B2B E-commerce Marketer of the Year" for 2016 and 2017, DollarDays is headquartered in Phoenix, Arizona. For more information, visit www.dollardays.com.